Lomandra High School
Posted by Patriot Environmental Management on 9 January 2018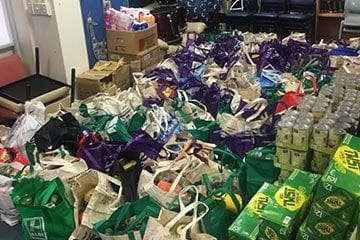 Patriot environmental and all of its staff upholds the highest level of professionalism and accountability for their actions. It is our pleasure to be receiving news about our staffs support and willingness to help members of our community around the festive season! Below is an excerpt from the email we received from one of the public in regard to the generous actions of some of Patriot's hardworking professionals.
"Just to introduce myself, I'm Audrey.
I started a program 5 years ago, to enable disadvantaged students and their families to access items such as clothes & food. To provide breakfast and lunches to school students and to help support their families.
Most of these kids, struggle each week, have a mental health diagnosis or live in foster homes, with carers or single parent households. Some couch surf as their home environment isn't great.
The project has grown dramatically, as we currently support 16 local schools. 2018 will see the growth of schools participating reaching 30 plus schools.
Each week we receive tonnes of rescued food, that would otherwise be turned into landfill. Donated items, from stores, such as Aldi, Woolworths, Costco, pallets of donated items from Food Bank and Oz Harvest. Clothes that don't make the sale racks, or are oversupplied. Toiletries and family items from Good360 and private Business. We pack the goods into hampers and send out to those in need.
Today we Received a truck load of food hamper items from Oz Harvest. With most of the staff already on Christmas leave, we were struggling to unload the items.
The Patriot boys generously decided to give up their lunch break and lend a helping hand. Arriving at school as our truck arrived. Unloading the food parcels, drinks and hampers boxes in no time.
Such an amazing crew who worked together and turned this into a very productive and positive day .
All hampers will be delivered to families in need, just in time for Christmas.
Please share this fantastic achievement.
Thank you and Merry Christmas! "
Author: Patriot Environmental Management