Patriot Environmental Management Response to COVID-19
Posted by Patriot Environmental Management on 31 March 2020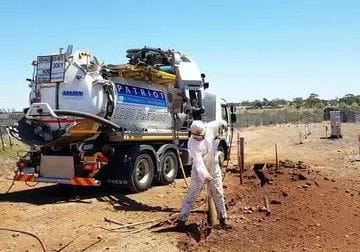 We would like to take this opportunity to advise our valued clients on Patriot Environmental Management's approach in responding to COVID-19 (Coronavirus) pandemic.
As our federal and state governments continue to adapt to this unprecedented situation, so do we.
Whilst there are a significant range of public safety initiatives in force, I can confirm Patriot Environmental Management remains open for business across all our national services. We are considered an essential service and will continue to operate across all available projects and associated client sites.
To pass on confidence to our clients, Patriot has implemented a wide range of policies and measures to ensure the safety health and wellbeing to our Staff, Clients, Contractors and the broader Community. These policies and measures are consist with advice from Federal and State Governments.
Following the direction of our industry, we have continued to deliver our services with clear intention is to keep a "business as usual" approach to operations. To ensure our response continues to be managed in an informed responsible manner a Patriot COVID-19 Response Team has been established to actively monitor, review and coordinate our responses as the situation evolves.
In addition to our normal policies, procedures and structured contingency plans already in place, a summary of the additional measures we are taking is detailed below.
Our staff
We are doing everything it takes to make sure our people feel safe and reassured coming to work.
Our staff have been briefed and continually trained on personal hygiene, social distancing and taking the appropriate health and safety precautions.
A company-wide roll out of the National Infection Controls COVID- 19 online training course, developed by the Federal Government Department of Health training.
All staff who have any form cough, cold or flu-like illness must remain home, with doctor's clearance required as part of the return to work procedure.
All staff with symptoms of COVID-19 or have been in close contact with positive case or secondary contacts with an associated person have a clear understanding on the company procedure and overarching management plan.
As our secure management software and systems can be accessed remotely in the case where one of our state office facility has an outbreak, our management team can seamlessly continue to service and deliver communications for our clients should this situation arise.
Our state depots, Fleet of equipment and Management offices.
Structured and consistent cleaning and sanitising protocols across our offices, workshops and vehicle holding facilities
Change of Management process has been implemented to ensure employees have limited time and interaction at our facilities before leaving and returning from client shifts.
A rotating management team to ensure client coordination and field staff support is maintained at all points in the case of an outbreak
All trucks are sanitized to the highest standard aligning to government guidelines and company procedures before and after every shift also each vehicle having the appropriate cleaning products onboard.
Clear inventory and appropriate stock levels for all sanitary products, PPE products and plant maintenance items to ensure our services are not affected.
Fortunately, as of the 1st of April 2020 Patriot Environmental Management has had no reported cases of COVID-19 at any of our facilities or amongst our staff members inclusive of families. We thank you for your understanding and ongoing support as we navigate this evolving situation.
Despite these challenging times for all businesses, we remain committed to maintaining an excellent level of client care and service. Please don't hesitate to contact us if you have any concerns or questions.
Kind regards,
Brett George
Chief Executive Officer
Author:Patriot Environmental Management