Patriot assist Rural Fire Brigade in SE QLD
Posted by Patriot Environmental Management on 20 October 2019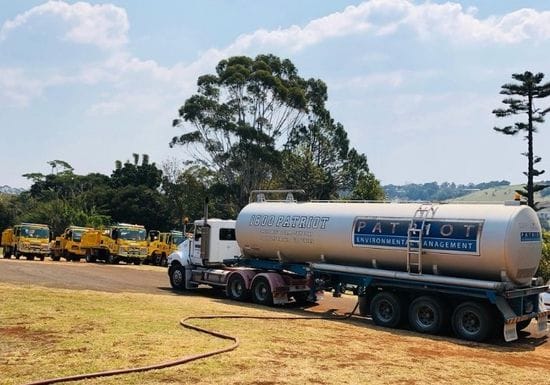 The recent warning from Queensland Fire and Emergency Services (QFES), is that Queensland is likely to experience heightened fire risk over the coming months.
The prolonged dry and hot weather we experienced in early September across the South East part of Queensland made a perfect storm for an early fire season. Queensland had 70 plus fires tearing through the State over this period. Some of these fires were very much in the back yard of where we live and work. Patriot Environmental Management and our Brisbane Operations team wanted to support the local community and firefighting effort in any way we could. We reached out to the Rural Fire Brigade to offer our 25,000L semi water tanker to assist their firefighting effort.
Our offer was accepted and we were initially invited to deliver water at Canungra where water bomber planes were being refilled. On- route an emergency call was received that the Beechmont Rural Fire Brigade had run out of water and could our tanker be re-directed to help this effort instead. Jordan Broadbent, Senior Operator, delivered the 25,000L of water. Jordan had this to say from the view at the top, "You could barely see though the valley from the fires that have been raging for days up there!". Patriot Environmental Management is proud to support Rural Fire Brigade with water, their time and the use of the tanker. We hope that this donation made the job of the rural fire brigade a little bit easier at this challenging time.
Congratulations to the Brisbane Operations Team and special mention to Jordan Broadbent on a job well done.
Author:Patriot Environmental Management