Patriot selected as finalists in the QMCA 2018 Innovation and Excellence Awards
Posted by Patriot Environmental Management on 22 October 2018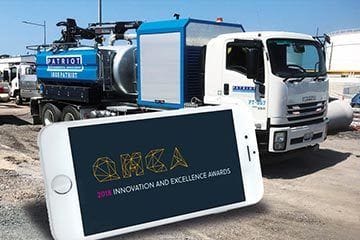 The Queensland Major Contractors Award (QMCA) was established to recognise the outstanding contribution of major contractors to the Queensland civil infrastructure sector and their commitment to safety.
2018 Innovation and Excellence Awards presented focused on four key areas:
QMCA Subcontractors & Suppliers Award
QMCA Contractors Award
QMCA Design Consultants Award
QMCA Subcontractors & Suppliers Award is new category in 2018
The award showcases the most innovative concept by a subcontractor or supplier. Patriot was nominated by Lendlease Engineering for Innovation & Excellence Award, with Patriot achieving finalist final 4.
Finalists included:
Commercial Marine Group Sewage Outflow Pipe KSD Upgrade
Patriot Environmental Management Real Time vehicle prestarts
PCA Ground Engineering Micropiling KSD Upgrade
Pumps United Dewater of Dryandra Road Underpass
The winner was, Pumps United Dewater of Dryandra Road Underpass.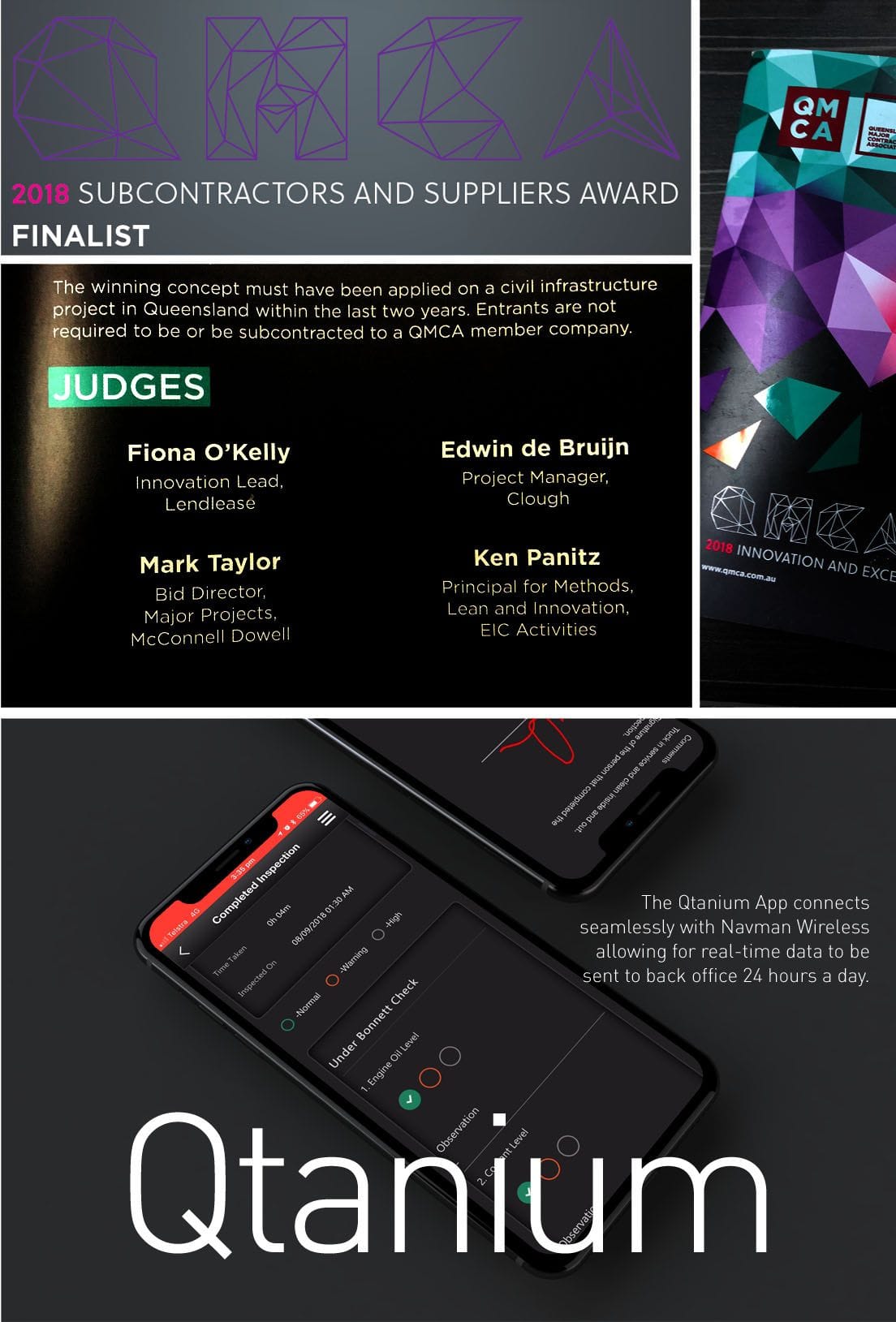 Qtanium is an app which records vehicle pre-starts in "real time". Patriot Environmental Management has partnered with Teletrac Navman to digitally transfer our previously hard copy pre-starts to a tablet or smart phone for access to real time data or issues regarding our fleet. This saves Patriot time and money, makes life easier for our drivers, operators and administrative staff, and increases safety, thereby minimising risk.
Patriot was selected as a finalist in the QMCA 2018 Innovation and Excellence Awards and received a special mention for our innovation.
An operator completes their pre-starts at the start of their shift. The data is then sent in real-time to the relevant teams and managers. Should an issue be identified, an automatic work order is created and sent to managers and maintenance crew. This work order is then prioritised and rated and the relevant parts identified, ordered, and relevant repairs made.
For Patriot, this means our operations managers can work closely with our administrators and maintenance staff to correct issues and ensure our fleet is operating safely and in the best condition.
Benefits
Qtanium has benefited Patriot Environmental Management in multiple ways, including; increased safety, predication of quality, saved time, and lowering of monetary operational costs.
By receiving pre-starts and real time data, we now have the relevant teams accessing pre-starts 27 hours earlier then the previous paper-based copies. There is no longer the vulnerability for a paper pre-start copy to be misplaced or the necessity for the form to be scanned, saved, filed and archived.
Pre-starts which are completed digitally in a set format ensures all parts of the forms are completed with the correct information, and are legible for all staff needing to review them. We were previously experiencing quality issues with paper forms being illegible or irrelevant information being provided. Our digital pre-starts require our operators to take and attach photos of any issues with their plant or equipment. This enables our senior staff to remotely troubleshoot minor issues rectified on the spot by the Operator.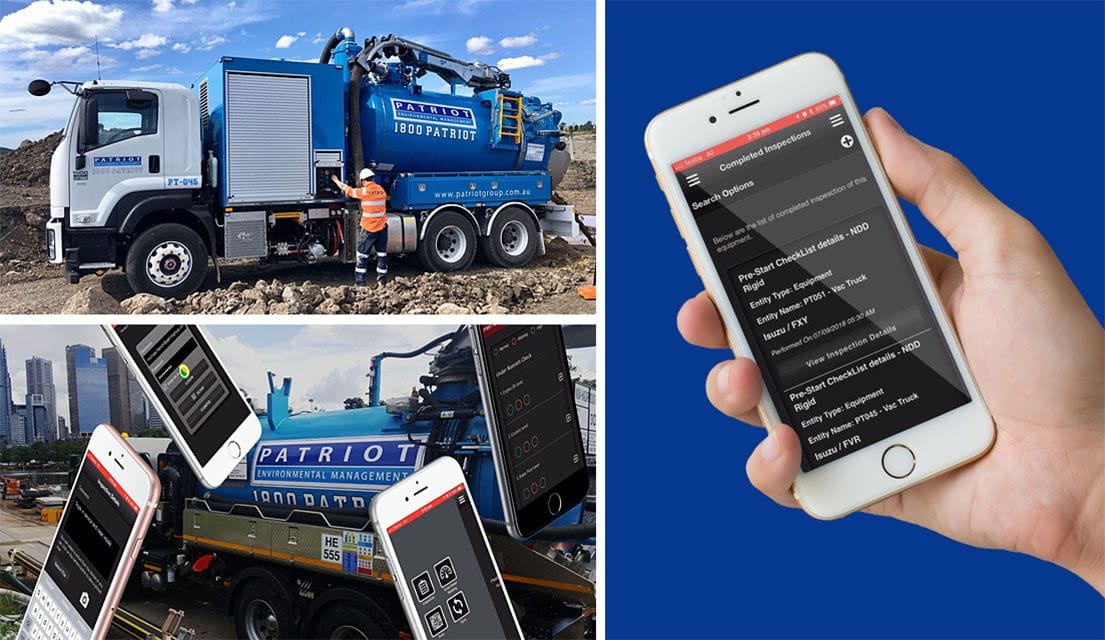 The photographs also allow us to create and maintain a visual database of the truck conditions. By using the app, the cost to us as a company is comparable to the cost of using hard copy books, however it is the time savings recouped for an administrator that makes an appreciable difference. For example, previously, processing data, filing and scanning was at a minimum 10 hours per week. We hope these saving increase as we further automating our processes.
The biggest benefit for us as a company, centres around safety. This includes the safety of our operators, other road users and, to our fleet and company as a whole. By receiving real time data we are able to ensure a vehicle is not being utilised when it is not safe to operate, and that we can prioritise maintenance issues when an issue is first raised. This allows us to be proactive in the ordering of equipment and parts for repairing of our vehicles.
We also believe this assists our company with the new Chain of Responsibility (CoR) legislation. It allows us an increasingly granular view of our fleet and any issues or repairs that need rectification. It also allows us to remind and question our staff as to if they are fit to work at the start of their shifts.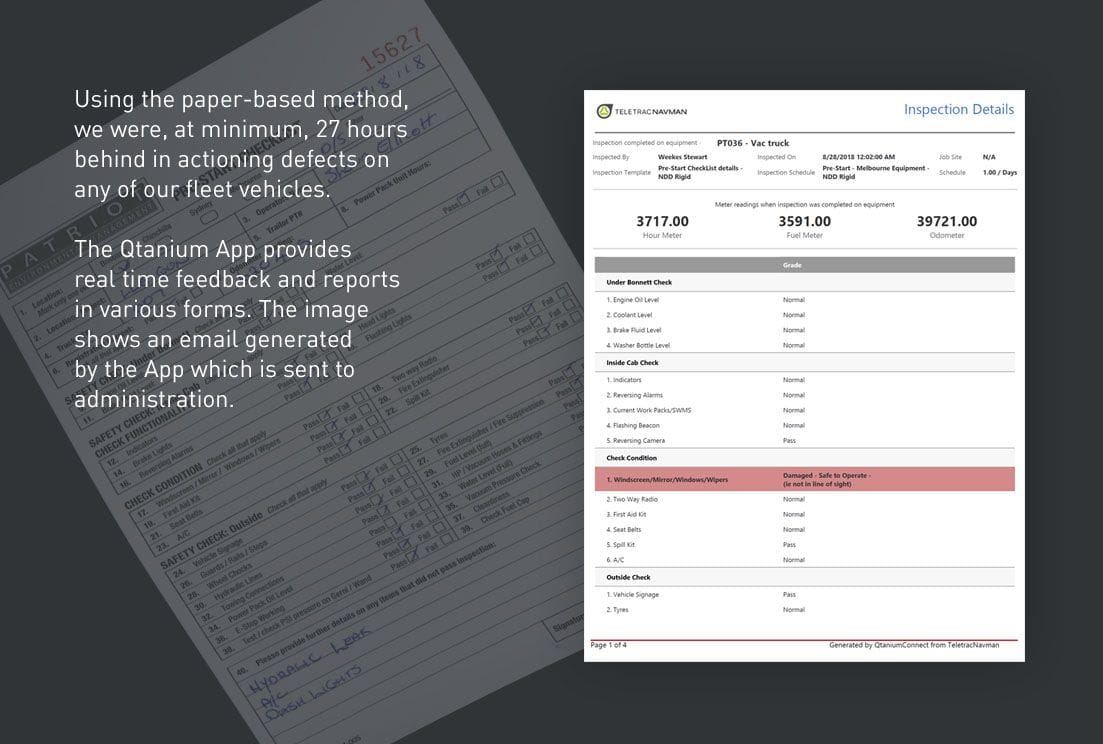 Unique and Efficient
Previously our operators would complete a hard copy pre-start. We calculated that on average, the data embodied as a hard copy prestart were given to the appropriate operations and maintenance teams 27 hours after they were logged.
We were at minimum 27 hours behind in actioning defects on any of our fleet vehicles. If parts were required to be ordered we could be even further behind in getting any particular issue rectified. A minor defect could take a few days to correct or schedule into the workshop.
Delays could be further exacerbated because inherent in the paper-based process of submitting data for a prestart, any issues were recorded as how the operator described the issue which was not visually sighted by the teams that could rectify the problem prior to working the problem.
Qtanium requires a photo to be taken and attached for each prestart report. Once a work order is created it allows the relevant teams to triage the problem by prioritising the necessary resources, estimating the time needed to correct the issue and order relevant parts and equipment, or organise specialised (out of workshop) repairs.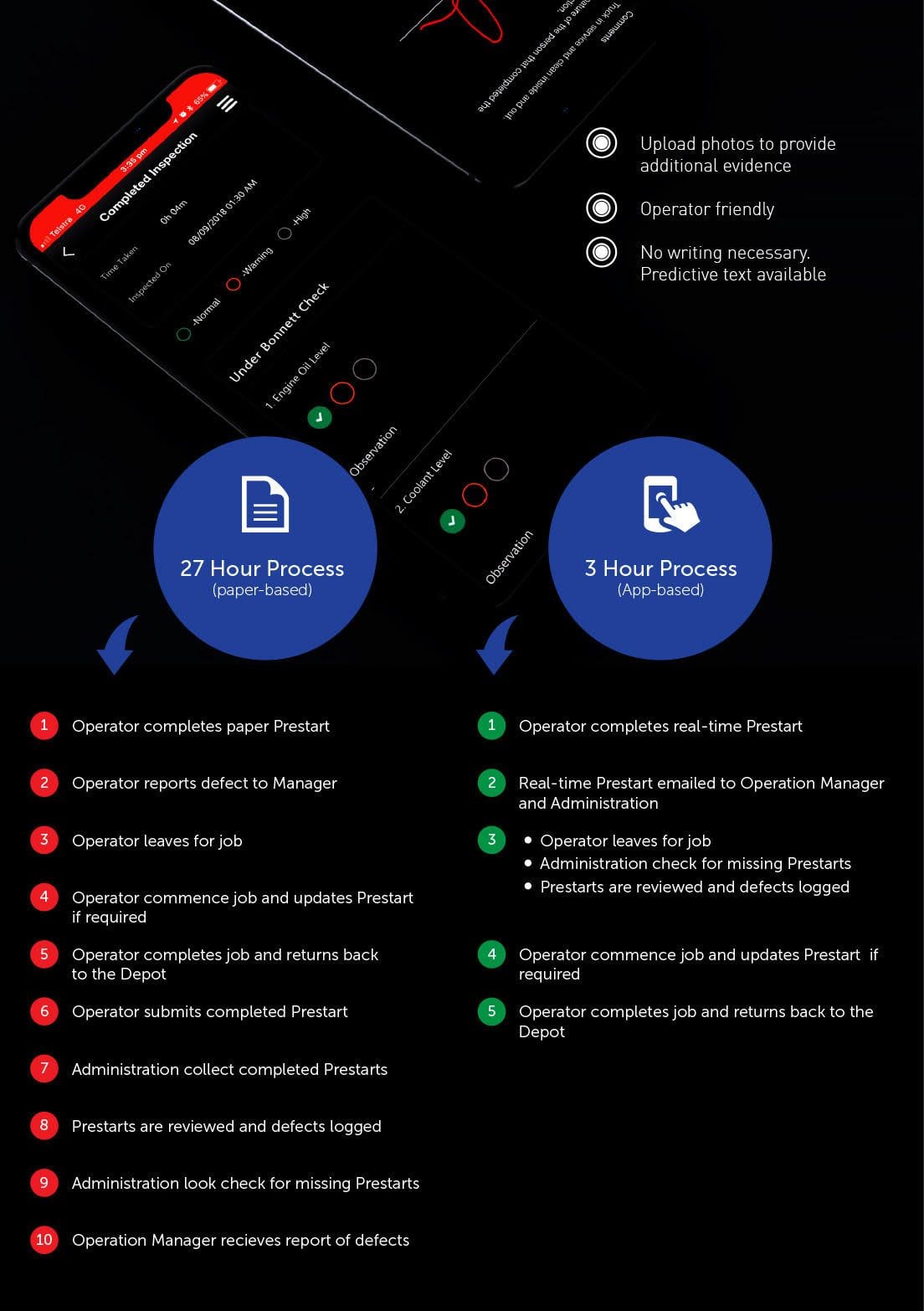 Extensibility
The next step for Patriot will be implementing our App solution across all states and integrating it into our associated entities. Given all of our associated entities currently utilise Teletrac Navman and our training method and process have already been well adopted, transferance across our associated entities will be a simple process. We hope to go live for Patriot Environmental Management across all states by December 2018. We then aim to transfer this across to our associated entities by Quarter 1 2019.
"We need to constantly challenge the way we do things, through "innovation and creativity"
Harry Mostert, General Manager
We are also utilising additional features such as the automatic creation of work orders which are allocated to the relevant staff within the business. Once these are finalised, management have the overview on a work orders status, completion rates and prioritisation of any issues.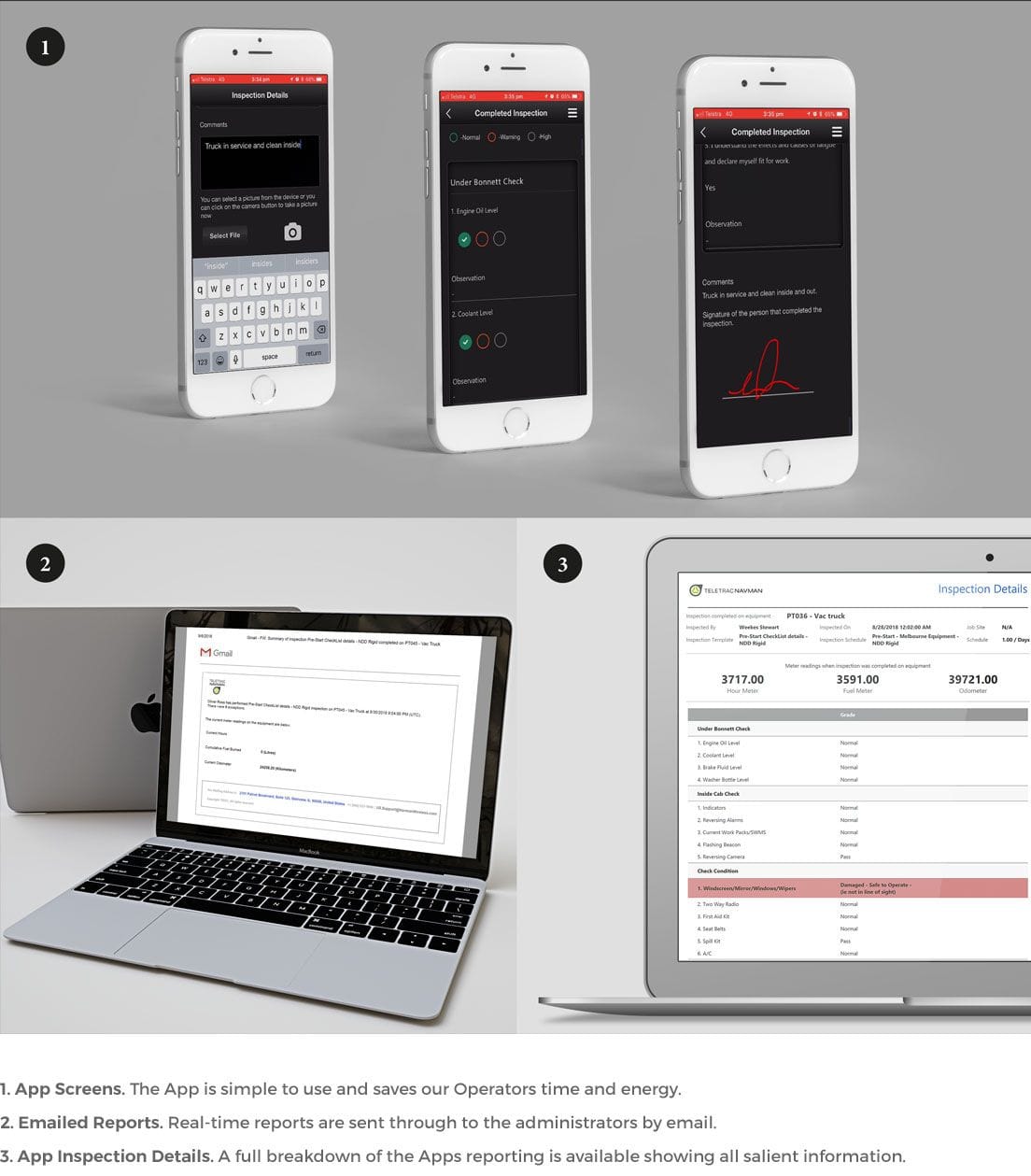 Author: Patriot Environmental Management