Save A Mate - Support through Mateship
Posted by Patriot Environmental Management on 18 January 2018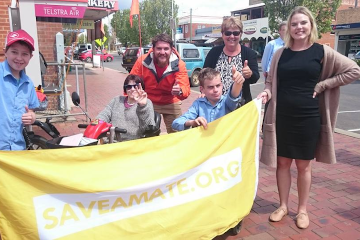 Patriot believes in good causes, especially those in which its employees partake within. 'Save A Mate' is a mental health organisation run by a long-standing employee of Patriot, Samuel Thompson. 'Save A Mate's' ultimate goal is to create a sense of mateship and help other members through mental health issues and suicide prevention. We conducted a short interview with Sam, questioning him about his passions, motivations and challenges with running 'Save A Mate'.
What are some of my passions?
Other than surfing and fishing. I have a strong passion in suicide prevention and mental health. I feel it is important to create a sense of mateship and a community where people feel comfortable in 1. Being a mate to other folk and 2. Allowing people who are going through a hard time to feel comfortable enough to reach out and ask for help.
If we can create a sense of mateship in treating everyone as we would our mates i.e.: you'd not let your mate go through hardship alone. Then I feel we can assist in stopping people feeling unable to seek help. Which will create a happier and healthier life for everyone.
How did Patriot support me with my passion?
It's extremely difficult to find a company that allows/ gives me the flexibility to peruse my passion of building 'Save A Mate'. I'm a father with two kids and I need the steady income to ensure my family does not go without whilst I'm working with 'Save A Mate'.
Patriot have given me the security of a full-time job, has backed my works through support, purchasing stickers / assisting with accommodation and have just embraced what I am doing which I feel is a solid attribution the company I work for. You really don't find many companies that do not work within a mental health field but supports a bloke that is trying to assist in this field as much as they have. I am also grateful of meeting Brett the owner and I feel through seeing what he has achieved with this company influences my passion to build my own organisation. Just all up very cool to be where I am at this point in my life.
Challenges I have faced chasing this passion?
I am learning as I go- I have had to develop strong organisational skills and planning to achieve 'Save A Mate' as cost effectively as I can. So far, I spend roughly $6000 per trip. I struggle at times to locate suitable locations to talk in, that can suit the time frame of the trip. I'm fortunate that the ride is in October which also coincides with mental health week so there are various organisations working to highlight mental health and suicide prevention whilst I'm traveling. I just need to maintain relationships with them throughout the year and plan to team up with them when I'm coming through the towns in order to keep an audience.
Other than the financial and planning, I have a struggled with anxiety issues throughout most of my life and I don't always feel comfortable in large groups of people. Haha there is a fair bit of self-uplifting to be done before talks where I walk around in circles and just tell myself why I'm here, what I'm doing and remind myself of the importance of my work. Each time I do something with 'Save A Mate' a wall of anxiety is broken down so It's a win-win situation in reality.
Why did you get into got into this?
I have always been a caring sort of bloke- my mother worked as a special needs teacher whilst I grew up and I spent a fair bit of time hanging out with kids who were dependant on assistance to live a daily life. I have supported organisations within mental health fields and have always held a spot in my heart for those who need extra help.
The main push though for this creation of 'Save A Mate' was when I lost a solid mate of mine to suicide. We had both lived a fairly rough high schooling of bullying and fighting. After school, I moved to Townsville to study at university, my mate also found himself up there. We met up again as young adults and would have beers to celebrate our achievements in life.
We would embrace in how proud we were of making it out of schooling days and now on paths that could design our futures. Then one morning I was woken up by a phone call from media telling me my mate had taken his life and wanted to know information about him. It was such a kick to the teeth to find out that way, to find out a bloke I felt had the world at his hands had taken his life.
I dropped out of university moved home and on the night of his funeral my grandmother passed away. 2009 was a fairly hard year to deal with and I was at a low point in my life, I had a 50cc scooter and thought to drop what I was doing and throw myself into it. I organised to ride my scooter as far as I could from Queensland to Victoria and tell people my story.
And that's what I did. I talked in a few locations on my grieving process of losing my mate and It was an emotional experience as a 19-year-old offloading my story to others. But each time I did it I felt freer from the internal battle I was fighting.
The thing that stood out was each time I would talk, I would be greeted by someone who had also lost a mate. I wasn't this unique individual who was walking this life of grief but so many others were able to relate. And It became my mission from that realisation to create awareness by highlighting mateship.
I may not be able to stop suicides and I may not be able to open everyone's eyes to mental health. But what I can do, is I can bloody well try.
And yeah that's what got me into this field.
To follow the Save a Mate visit www.saveamate.org, Facebook @saveamate2017 or on Instagram search for save a mate.
Author: Patriot Environmental Management